FREE OF CHARGE trial lesson (30 minutes)
This is a special offer for foreigners (in Japan and abroad) and Japanese dog owners living abroad who wish to learn the fun ways of teaching your dog to dance through lessons online. Don't miss the chance of experiencing a FREE OF CHARGE trial lesson (30 minutes) and learn useful training tips from an expert.Please contact us by email.
Join Us for Dog Dancing Lesson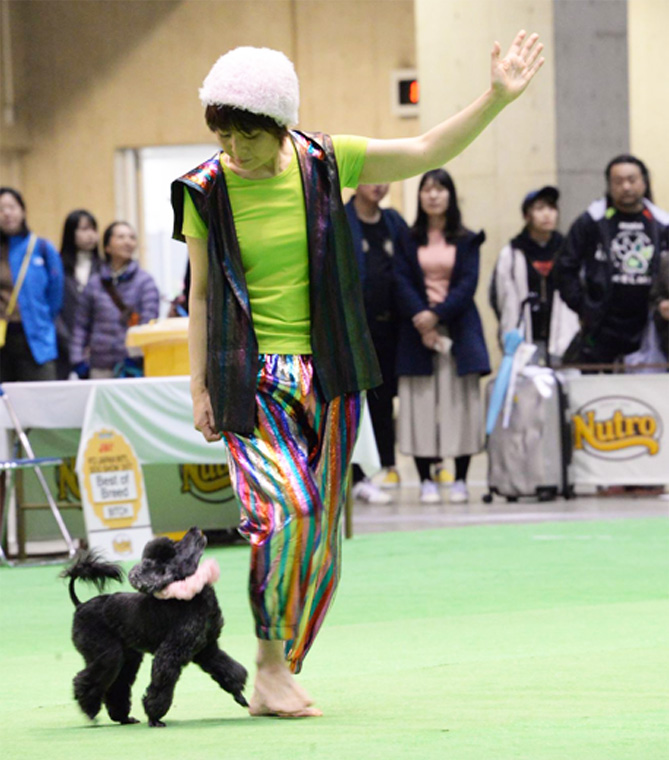 Demonstration at Tokyo, Makuhari Messe Convention Center
Canine Freestyle, or Dog Dancing, has become an established international dog sport. Eye-catching and heart moving performances illustrating the beautiful bond between dog and handler can be seen in competitions, most notably the world's biggest dog sports fair "Crufts", organized and held by the British Kennel Club every year. At the same time, it is a sport that can be enjoyed by everyone with dogs of all ages and physical ability and can in fact help maintain health in senior dogs. It doesn't require large space or special facilities, and you can exercise your training inside a small room or outdoors at a nearby park.
You don't need any training background to start learning and discover what you and your dog can achieve through dog dancing at DDC (Dog Daisuki Club)!
About DDC / Chikage Hayashi, Founder and President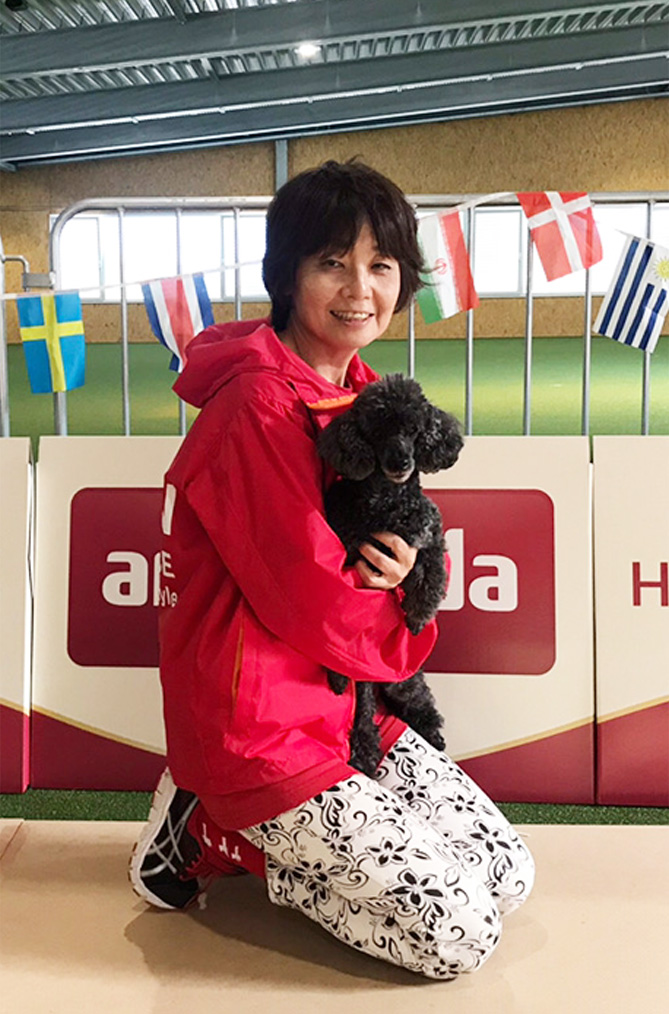 Competition entry of Open European Championship (Dog Dancing) in Switzerland
Hi!
Welcome to my Dog Daisuki Club (DDC) Website. I am Chikage Hayashi, a certified dog trainer in Japan (currently in Tokyo and Kanagawa) with multiple titles and performance awards in both canine dancing and obedience competitions held by major organizations in Japan and judged by qualified international judges(DogDance Japan).Me and my dancing partner Orion, a toy poodle, competed actively in competitions, where the majority of the contestants were middle to large-sized dogs, and successfully claimed four consecutive obedience titles as well as numerous awards for our dance performances.
We represented Japan in one of two major dog dance competitions in Europe, the Open European Championship (OEC), held in Switzerland. We were also invited as chief judge and HTM/Freestyle seminar instructor in the Dance Competition Category of the National Dog Obedience Assembly held by Dogs New Zealand(New Zealand Kennnel Club).
The DDC is internationally recognized by influential members of the canine freestyle sport and the only dog training school in Japan to receive recommendation from Karen Sykes, one of the most distinguished dog handlers and a highly decorated member of the British HTM team.
Recommendation for Chikage Hayashi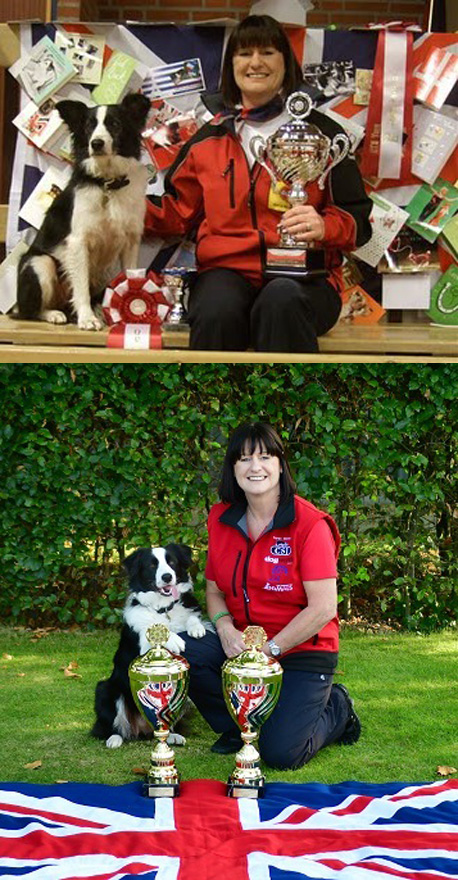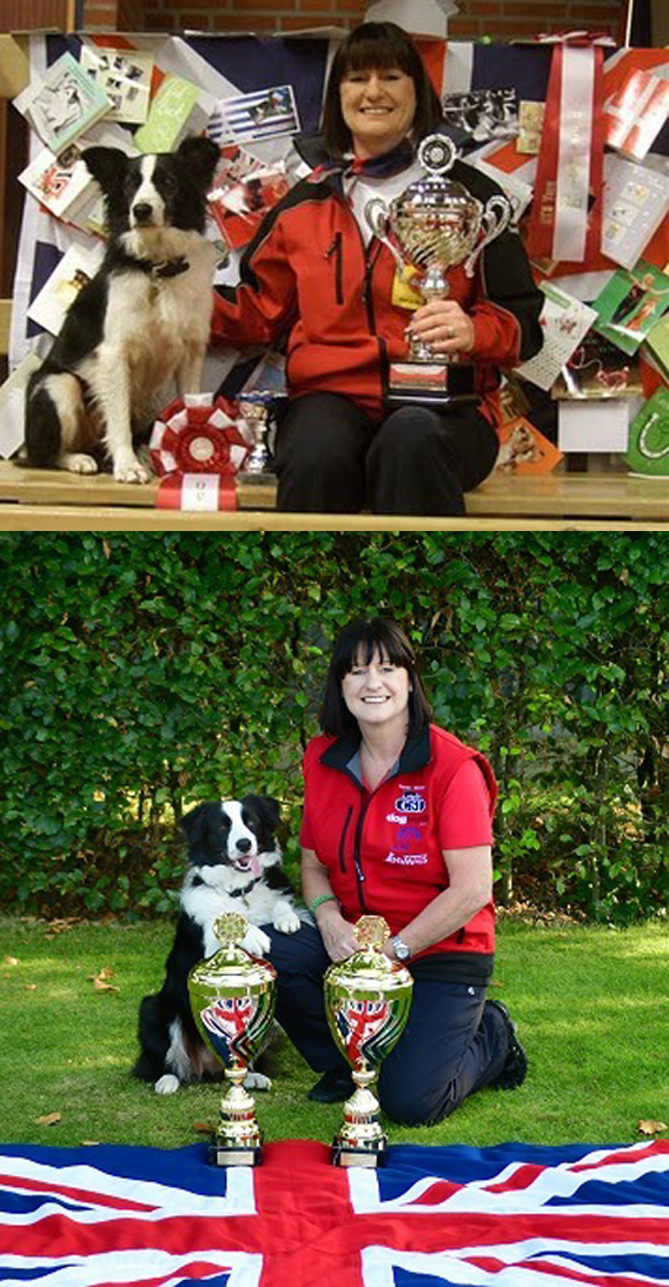 By Karen Sykes
I have known Chikage since 2014 when I first saw her compete in Canine Freestyle with her lovely dog, Orion. From that first meeting it was clear that the bond between them was very special and I was impressed by her eagerness to seek advice to help her to advance her knowledge and practical skills in dog training.
Over the years Chikage has expanded her understanding of all aspects of dog training, particularly her expertise in working with each dog's individual character and adapting her methods to support the handler in assisting the dog to achieve what is required whilst truly enjoying the process of learning different skills.
We have known and worked together for 6 years now which is why I can confidently recommend Chikage without hesitation. Anyone who is looking for basic training tailored to the individual dog's nature, personality and temperament need look no further.
Reviews from DDC Students
Shimada

Kuina / Papillon
winner, Canine Freestyle competition judged by Karen Sykes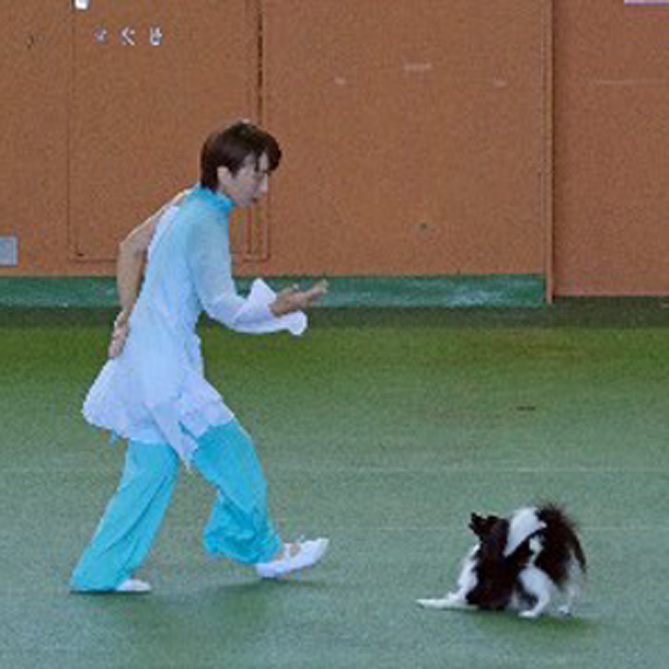 winner, Canine Freestyle competition judged by Karen Sykes
I have learned basic training and Dog Dancing at DDC since Kuina was a puppy and the training method has proved effective not only in dancing but in other competitions such as agility and we were able to claim our victory against many working breeds such as border collies that generally have an edge in these competitions.
Ms M

Sakura / Shorthaired Hungarian Vizsla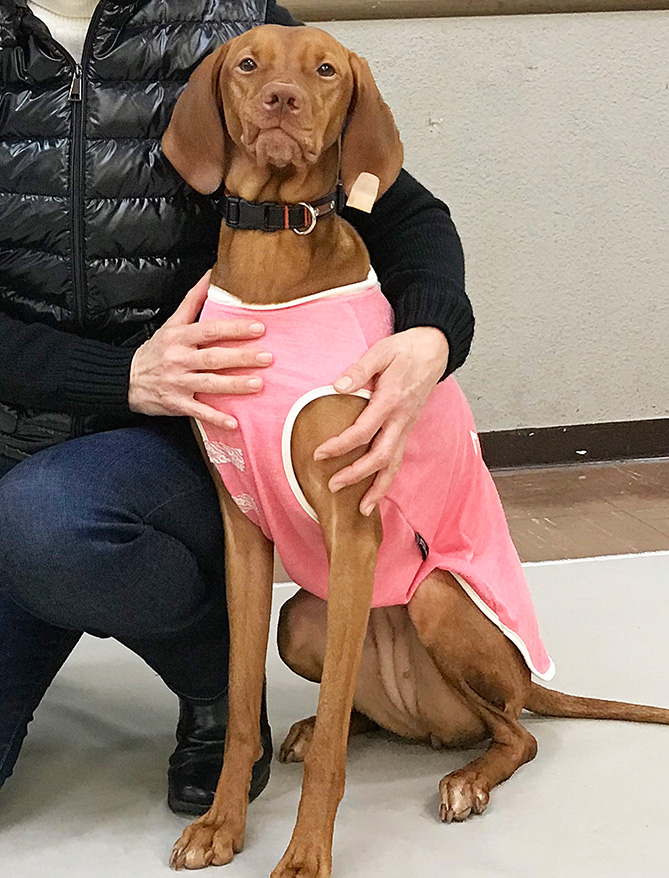 Sakura and I started dog dancing competitively in just six months after joining DDC. Sakura thoroughly loves to train and it's a great joy to watch her wag her tail and enjoy her lessons. Ms. Hayashi is a true professional who brings out the best in my dog and is always there to give me eye-opening advice,
Biography / Chikage Hayashi / Founder and President, DDC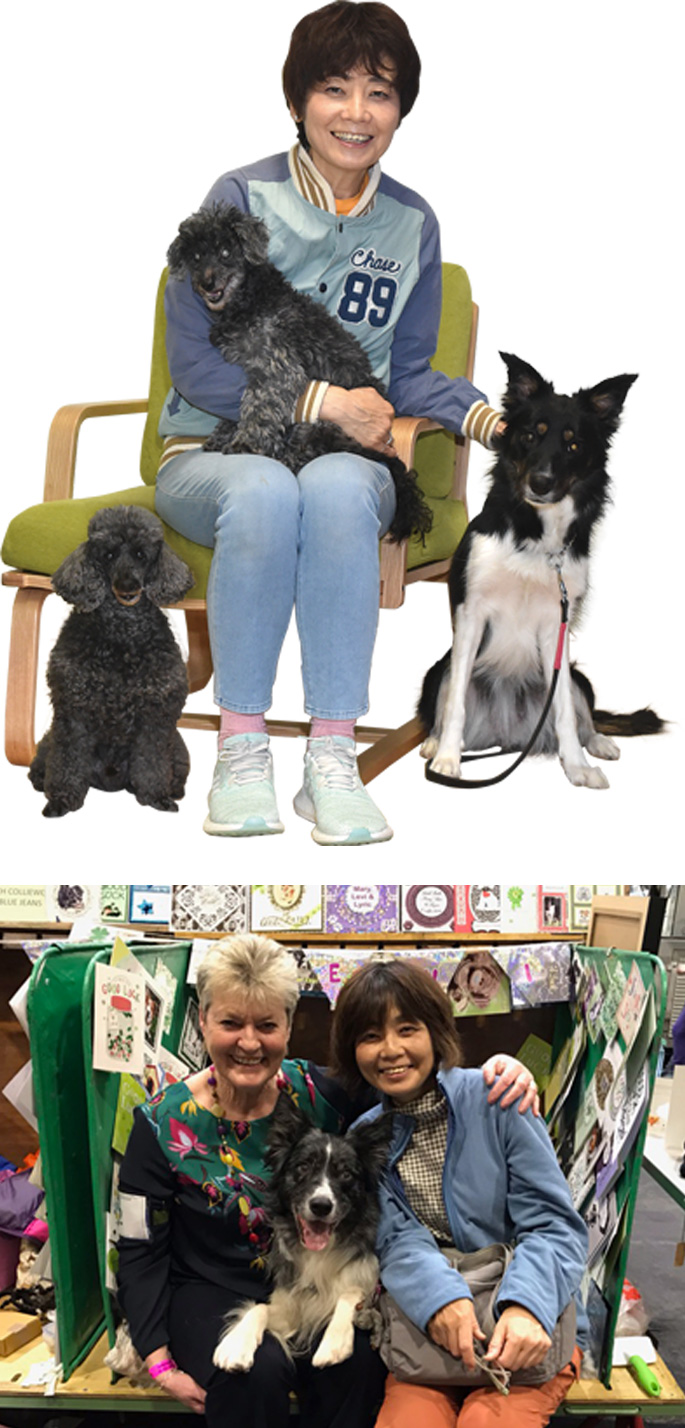 A Snapshot with Mary Ray called the Queen of DogDance, at the 2018 "Crufts" ,Great Britain
I have always loved animals since childhood and took up horse riding for a while. After graduating from university, I began my career working for a magazine company and then an ad agency where I was required to write up a list of winning project proposals for my clients. My experience during that time gave me the power to start from scratch and become competitive with new ideas and methods. Broadening my horizons by involving myself in volunteer work for dog rescue organizations became a turning point in my life. I seriously began to consider a new career in which I could utilize my skills to help dogs and their owners lead a fulfilling life and gave up my career to become a professional dog trainer.
Knowing too well that a truly skilled dog trainer is not made with theory and a certificate, I purposely put myself through a difficult test of competing with a small toy poodle (Orion) in various competitions and sports and successfully proved myself with numerous titles and awards. With Orion nearing retirement, I am now aiming to qualify to contest internationally with my new partner Melody, a border collie, but it is the hard work that I've gone through with Orion that has enabled me to establish my original training methods.
I also have plans to hold programs for children in the hope of educating the next generation on animal welfare awareness.
What is Canine Freestyle / Dog Dancing
The Dog Dancing sport was founded in Great Britain by Mary Ray, a world famous trainer/handler and a leader in every aspect of dog training, who put together the sport of dancing to music into an established sport. Judged in a similar manner as figure skating where creativity and artistry of the presentation plays a major role as well as skill and harmony between dog and its handler, it not only is an exciting sport for the performers but a spectacular and entertaining performance to watch. The biggest advantage of the sport however, is that there is a perfect routine suited to every dog (and handler) of various ability and ages and can be practiced in limited space such as in a small room inside your house. Dog Dancing can improve the physical and mental health in both you and your dog and holds huge potentials for the well-being of many dogs in the future.
Expert in Special Training Methods Reserved for Small Dogs and Effective Training for Sensitive Middle/ Large Breeds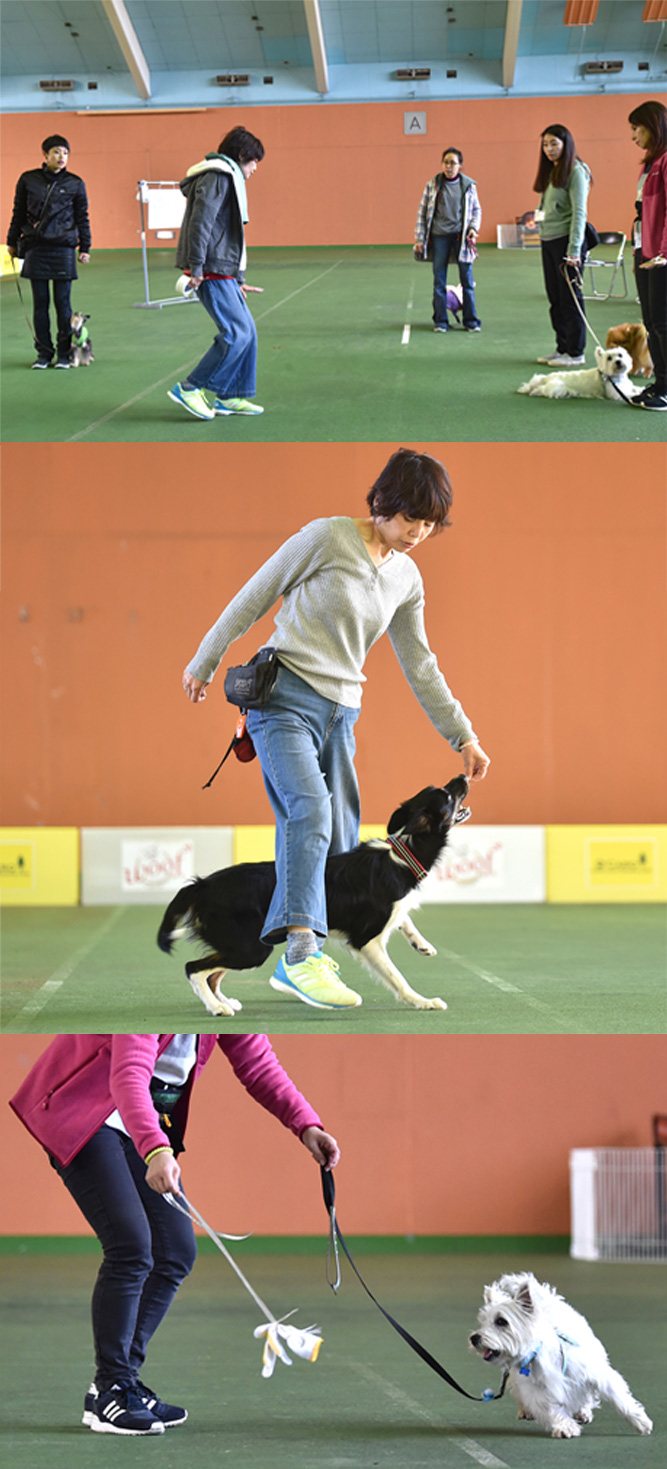 Unlike European countries, dog owners in Japan tend to choose smaller breeds due to their limited living space. Small dogs are usually highly strung and sensitive compared to larger dogs, thus in need of special attention. But their cuteness can be an audience grabbing tool in competition.
DDC focuses on building a curriculum to meet the needs of each individuals to ensure comprehensibility so that the dog remains motivated and the owner can feel the joy of training and the outcome of their efforts. During the course of training, health and proper assessment of their physical ability is top priority, so each session will be programed accordingly. Our original training method enables dog of all breeds and sizes to execute their movement effortlessly and accurately to the commands given by their handler. I have a variety of methods and skills from my experience with less trainable dogs—something that many trainers who have only trained the most obedient breeds cannot provide. The training lesson involving lots of treats and toys is great fun for the dog and both you and your dog will find great joy in interacting with each other on a daily basis in the convenience of your home. If you are an owner of a larger breed, looking for an effective training method to unleash the potential ability within your dog, you will find it at DDC.
We use the same rules established by the FCI in judging our DDC competitions.
Instructions will be given in Japanese, but lessons in simple English is also possible.
Lessons can be executed in person at the studio or online through internet.
Payment can be made only by cash, PayPal or bank transfer.
Please note that any bank charges/Paypal handling fee must be covered at your end.
We will be using a generous amount of treats and/or toys as motivation to keep your dog interested and love every minute of the session.
Cash
Bank transfer
❶ Dog Dance/ Canine Freestyle
❷ Tricks
❸ Basic Training suited to age
❹ Clicker Training
❺ Practical training course for tests and certification
Futago Shinchi


Studio Lesson


(one-on-one)

¥5,500/1 hr. session


(at Futago Shinchi)

Den-enchofu


Studio Lesson


(one-on-one)

¥7,000/hr. session


(at Den-en Chofu, \1,500 facility fee included)

* 6-class package deal
** ¥2,000 extra charge per lesson if you wish to pay in installments after each lesson of two studios.

Online Lesson
¥5,000/hr.

* no package deal available

Registration Fee
¥6,000
Payment accepted only by Cash, PayPal or Bank Transfer.
Charged in full for cancellation made within three days of reservation
Charged in full for absence without notice.
All lessons are one-on-one private sessions. Time of your choosing between
10 a.m. and 9 p.m. (Japan Time)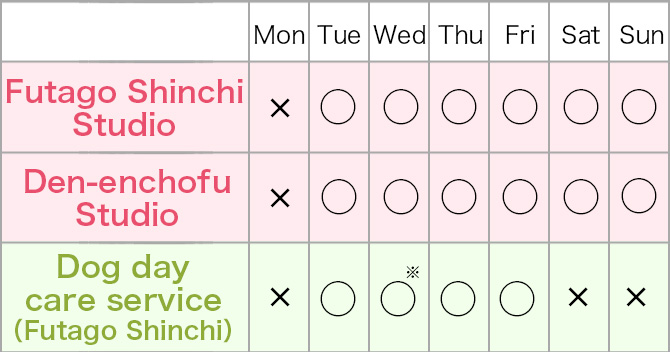 * Business closed on Mondays and First Wednesdays of the month.
There are two lesson studios in two locations; one in Den-en Chofu, Setagayaku, Tokyo, and the other in Futago Shinchi, Kawasaki city ,Takatsu-ku, Kawasaki-shi, Kanagawa.
Both studios are just 4 to 7-minute walk from the nearest railway station or, if by car, less than 20 minutes from the nearest motorway exit. Metered parking facilities are available close to the studios.
Address:

1. Futago Shinchi Studio

1-26-35-1 Futago, Takatsu-ku, Kanagawa, Japan

2. Den-enchofu Studio

1-chome, Den-enchofu, Tamagawa, Setagaya-ku, Tokyo, Japan

(detailed location for this studio will be notified upon reservation)
Special FREE OF CHARGE First Online Lesson for foreigners and Japanese dog owners living abroad
Eligible for this offer are foreigners either living abroad or in Japan and Japanese citizens living abroad.
First online lesson (30 min.) FREE!!
Use of video communication software, ZOOM, is requested. Lessons using smartphones and tablets are also possible, but downloading ZOOM apps will also be necessary in these cases and the small screen space using phones and tablets make it difficult to view both you and your dog in order to give adequate instructions. Therefore, personal computers are strongly recommended. You can easily download the ZOOM app by clicking the URL included in my invitation mail to you, which will then automatically install the software into your computer if you haven't already installed one. Unlike SKYPE, opening an account for registration which would then involve IDs and passwords is unnecessary to participate in the ZOOM meeting. Operating this software is quite simple.
Learn your Training Skills the Effective Way with DDC
DDC provides programs to meet every dog owner and professional instructors/handlers with effective canine training methods at all levels—from basic obedience for family pets to a highly advanced level of training involved in competitive sports such as dog dancing/canine freestyle. I can give practical tips on how both you and your dog can achieve your goals to live a happy life.
My firsthand experience as a competitor as well as a judge and instructor, both in Japan and abroad, has enabled me to provide the best solution for your dog. My love for music and art from a young age—Playing the piano and organ as well as frequent visits to art museums and movies were my favorite pastimes during my college years—has inspired me to come up with unique dance choreography ideas that are often well appreciated by my judges and I am always ready to help choreograph a dance routine for beginners in their preparation for recitals. So why not let me assist you in search of your dog's potentials with the best support available.

I look forward to hearing from you soon.
President, DDC
Chikage Hayashi